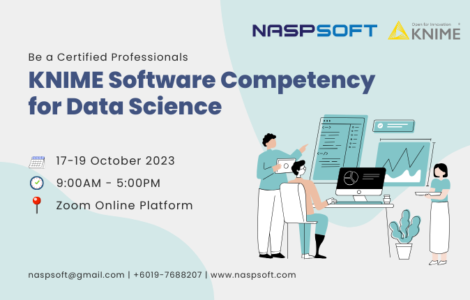 KNIME Software Competency for Data Science
About This Course
This professional proficiency certification program is developed and designed for professionals who want to start their journey in Data Science and explore career path as data science professionals. Is a partnership professional certification program by NASPSOFT (Malaysia) and KNIME (Switzerland). In this course, participants will learn how to use visual programming tools, KNIME Analytics Platform software to perform data science task, including data exploration, manipulation and machine learning. NO PROGRAMMING require. It is a CODELESS approach in data science.
You will be trained by Dr. Nickholas, a well-known academician and industrial practitioner of data science and big data analytics. One of his contributions to the nation is his role as subject matter expert or consultant at Ministry of Higher Education for data intelligence and analytics projects.
Learning Objectives
Fundamental of Data Science
Codeless Visual Programming with KNIME Analytics Platform
Exploratory Data Analysis
Machine Learning Modelling
Material Includes
Book: Data Science with KNIME (Free)
Dataset
Requirements
Students MUST attend 80% of the live class sessions.
Examination is required for the proficiency certification. Passing marks is 70%.
Target Audience
Professionals Individual
Undergraduate/Postgraduate Student
Aspiring Data Scientist
Welcome Package
Download all materials as provided in the link.
Download Link for Course Materials
Module 1 Fundamental of Data Science
Module 2 Visual Programming with KNIME Analytics Platform
Module 3 Exploratory Data Analysis
Module 4 Machine Learning Modelling
NASPSOFT-KNIME Competency Examination
Your Instructors